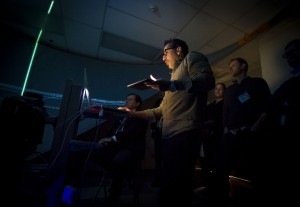 The first Experiential Event by Contact MTL was held yesterday at the design research laboratory Hybridlab.
In the presence of the Rector of the Université de Montreal, Dr. Guy Breton, and sixty enthralled guests, Professor Tomás Dorta and his team did a live demonstration of the Hyve-3D system.
This innovative technology developed in Montreal, is a fascinating alternative to virtual reality helmets. It offers many solutions for the field of design, Professor Dorta's specialty, but also for other fields, such as health.
Watch the photos of the event at the Contact Montreal website.
Read the article by Les Affaires (French only).